chicken tikka masala & chapattis
2017-06-13
Servings :

4

Prep Time :

20m

Cook Time :

60m

Ready In :

1:40 h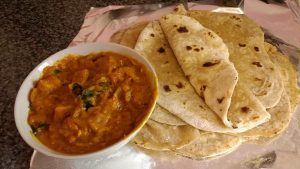 Ingredients
2 chicken breast
2 onions chopped
1/2 tin or pack chopped tomatoes or 2 fresh tomatoes
1 good tsp salt
1/2 tsp sugar
5 cloves garlic
1 good tsp ginger
1 tsp garam masala, turmeric, paprika and 1/2 tsp chilli,
a little oil
1/4 tin coconut milk.
coriander
1lb chapatti flour,I used white and wholemeal mixed
1 fl oz oil
7 fl oz water
2oz butter/marg
little flour for rolling.
Method
Step 1
CURRY cook the onions in a little oil till they start to soften add about 1/4 cup of water, then add the spices and cook about 20 mins, take care not to let it go dry or burn, if it looks dry add a bit more water. Add tomatoes stir well add the chicken and rinse the jar out with about a tbs of water, keep string on high heat for about five mins, then turn to low and simmer till chicken is cooked, add salt and sugar, taste and adjust to your liking. add coconut milk stir well and taste again, keep on simmer till sauce reduced a bit. add coriander at the end CHAPATTIS if you have a mixer with a dough hook use this, if not you will need a large bowl to kneed the dough sieve flour into bowl, (if using wholemeal,sieve this too and but the remains in at the end) add the oil water and butter. kneed till dough is soft about 10 mins or up to 5 with mixer. this mix can be divided into 15, but chapattis are small, so i made 8 once dough is ready and divided take one piece and roll out on floured surface, till its thinish, you will need a flat fry pan/omelette pan or tava. and some foil to keep the cooked chapattis in. i sprayed mine with a little fry light, , pan has to be very hot, once it is pop chapatti on for 15/20 seconds each side, pop on yo foil and rub with a little butter on each side and cover, repeat till all dough is cooked.