This is a super tasty leftover lamb hotpot recipe! Now I've always looked forward to the luxury of a whole roast leg of lamb, served with sweet, seasonal vegetables and a dollop of homemade mint sauce. However, the best part of the whole experience is deciding what to do with the leftover roast lamb. The answer? A recipe for Leftover Lamb Hotpot.
This is a very simple recipe, based on the classic Lancashire hotpot, which makes the most of the meaty flavour and doesn't hide it behind a veil of beefy gravy. For that reason, try your best to lay your hands on some lamb stock. You could even make some with the roasted bones from your joint of meat. It'll make all the difference.
Don't worry if you don't have any leftover lamb. Lamb neck – scrag end – works really well here and can be picked up for around £6 per kilo. Just make sure you cook it for 2-3 hours to ensure juicy, succulent meat.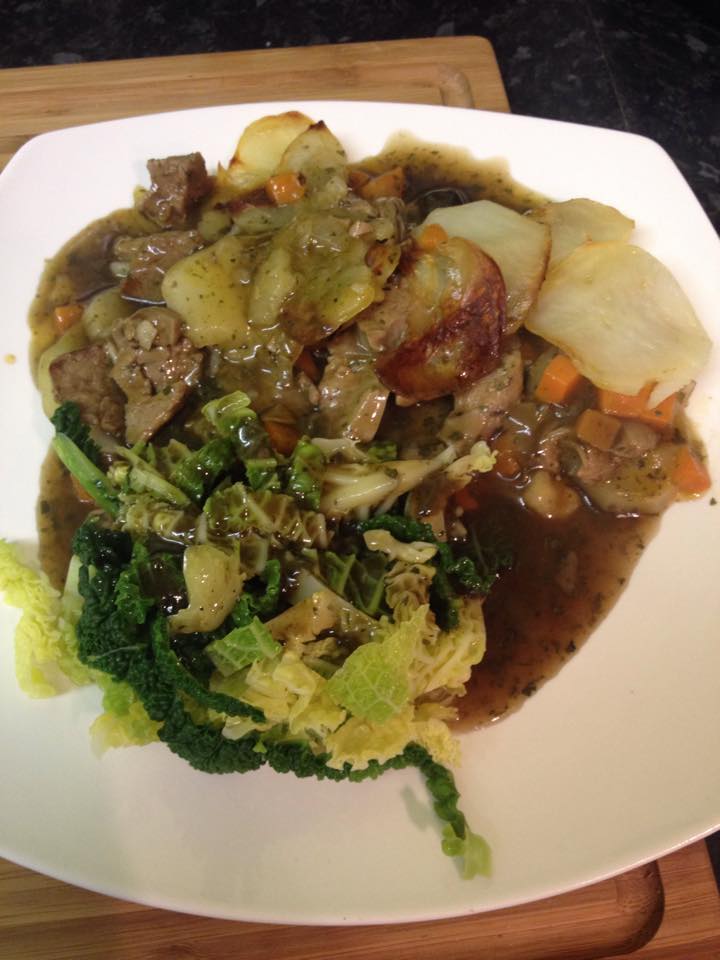 500
ml
lamb or vegetable stock
1
I diced a couple of celery sticks , a carrot and a large onion sweated them off in about 40g of butter
2
After about 5 minutes I added 2 bay leaves
3
roughly 500g of lamb cut into chunks some salt and pepper and 500ml of lamb stock( made from the bone ) along with a good squirt of tomato purée
4
I left it simmering for an hour
5
Peel and slice 500g of potatoes and part boil them
7
Take the pan off of the stove and add in a few picked thyme leaves and a good spoonful of mint sauce
8
Put the contents into an oven proof dish and layer meat potatoes then more meat and potatoes on the top , dot with butter
9
Put into a preheated oven 180C for an hour or until potatoes are browned
10
Serve with some nice thick gravy ,veg of your choice and mint sauce
Ingredients
500
ml
lamb or vegetable stock
Directions
1
I diced a couple of celery sticks , a carrot and a large onion sweated them off in about 40g of butter
2
After about 5 minutes I added 2 bay leaves
3
roughly 500g of lamb cut into chunks some salt and pepper and 500ml of lamb stock( made from the bone ) along with a good squirt of tomato purée
4
I left it simmering for an hour
5
Peel and slice 500g of potatoes and part boil them
7
Take the pan off of the stove and add in a few picked thyme leaves and a good spoonful of mint sauce
8
Put the contents into an oven proof dish and layer meat potatoes then more meat and potatoes on the top , dot with butter
9
Put into a preheated oven 180C for an hour or until potatoes are browned
10
Serve with some nice thick gravy ,veg of your choice and mint sauce