Fakeaway recipes are a particular favourite in my family. Fakeaways have so many advantages. They feel like a weekend treat, but at the same time you can save a lot of money making them yourself rather than ordering takeaway. Plus, you know what's going in, so you can make it a much healthier meal. Now, takeaway nights are usually the sort of nights when you don't have lots of time or energy, so you want to make your fakeaway an easy meal. For that, I like to shop with Iceland, because they've got a really good range of frozens that take a lot of the prep time off your hands. Of course, buying processed food means you will be paying for the process, so I've put together some advice on how I shop for my fakeaways. Let's jump right in!
Fakeaway Chicken Big Mac
Just the other week, I made a fakeaway chicken Big Mac. The ingredients for four burgers plus fries and coke came to just under £11. Compared to £5.99 for a meal at McDonald's per person, I saved about £13, which is more than half! And I had some buns, fries, cheese and gherkins left over for another meal. Here's what I bought from Iceland online groceries.
12 Sliced seeded burgers for £1.50
8 Crispy Chicken Breast Breasteaks for £2.75
Iceberg Lettuce for £0.75
Heinz American Style Burger Sauce for £2
Mrs Elswood Burger Gherkins for £1.75
1.25kg French Fries for £1
1L Coca Cola for £1.25 (on offer)
This way, a single portion comes down to under £3, including drinks and sides. Below you can see my result, which I found looked a lot better than the original (right picture).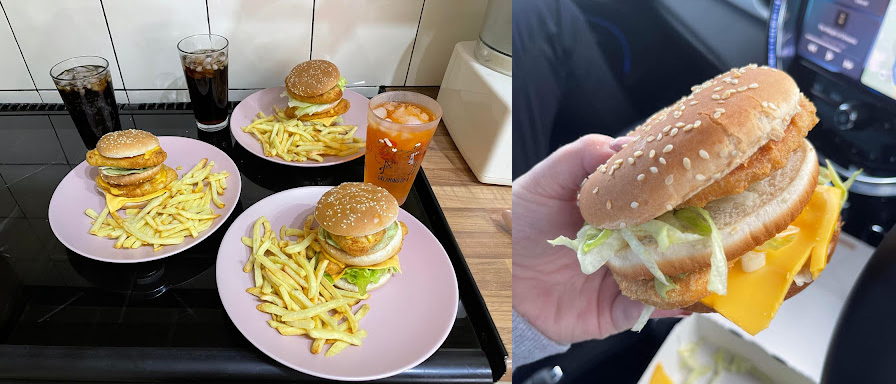 You can also save some extra money if you make your own Big Mac sauce. You can find a recipe for it here.
Slimming World Chinese Fakeaway
Chinese is my absolute favourite cuisine, and it is also one of the best for fakeaways. I find some of the takeaway dishes can be really greasy, so when you make it yourself, you can turn it into a quite healthy fakeaway. In my easy dinner recipes, you can find Chinese Style Chili Chicken, which is one of my favourite Chinese fakeaways, because it is also great for healthy batch cooking. Apart from a little salt, pepper, sugar, flour, cornflour, oil, garlic and water, which you probably have in your cupboard, you will need just 35mins of prep and cooking time and the following ingredients, when you go Iceland online food shopping.
Chicken breasts for £3.25
Mixed bell peppers for £1
Soy sauce for £1.55
Red chilli for £1
Tomato puree for £1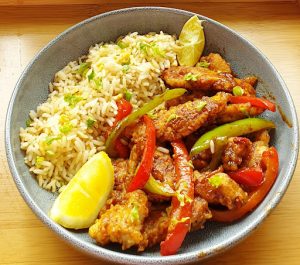 In total that makes £7.80 for four portions, with plenty of peppers, soy sauce and chilli left over for another meal. If you want to make this an even healthier meal, you can serve it with Slimming World fakeaway rice for just £2.25. Below is what my dish looks like. Yum!
Tools to Help You Shop
The best thing you can do to keep the price down across all your fakeaways and other meals is meal planning. I know it can seem overwhelming having to put effort into planning your meals ahead, but it really does make all the difference. To make things easier, I've put together a weekly meal planner for you, which you can download here. As you might remember, in both recipes above, there were quite a few ingredients leftover, so it's best to come up with other meals for the week that incorporate these ingredients. In my calculations, I added the entire price of the ingredients including the leftovers, but if you use them elsewhere, you've saved the cost for the leftovers on another meal, making it much cheaper overall. That's why my latest cook book, More from Less features lots of tasty recipes, including fakeaway recipes, that use up your leftovers for you and save you money in the long run.
What are your favourite fakeaway recipes? Let us know in the comments below, or share it in our Facebook Group!