Roast leg of lamb is traditionally roasted in a hot oven (190˚C–220˚C) though it can also be slow cooked at lower temperatures for much longer.
When cooking a leg of lamb whole, don't remove any excess fat – it adds flavour and helps keep the meat tender. The fat will render down during cooking; drain it from the roasting tray and whisk it into your gravy for an extra boost of lamb flavour.
It is important to let the meat come to room temperature before beginning to ensure it will cook through evenly. It is also imperative to let the meat rest after cooking, 20 minutes is sufficient. Wrap the leg in tin foil to prevent it from getting too cold while you make your gravy.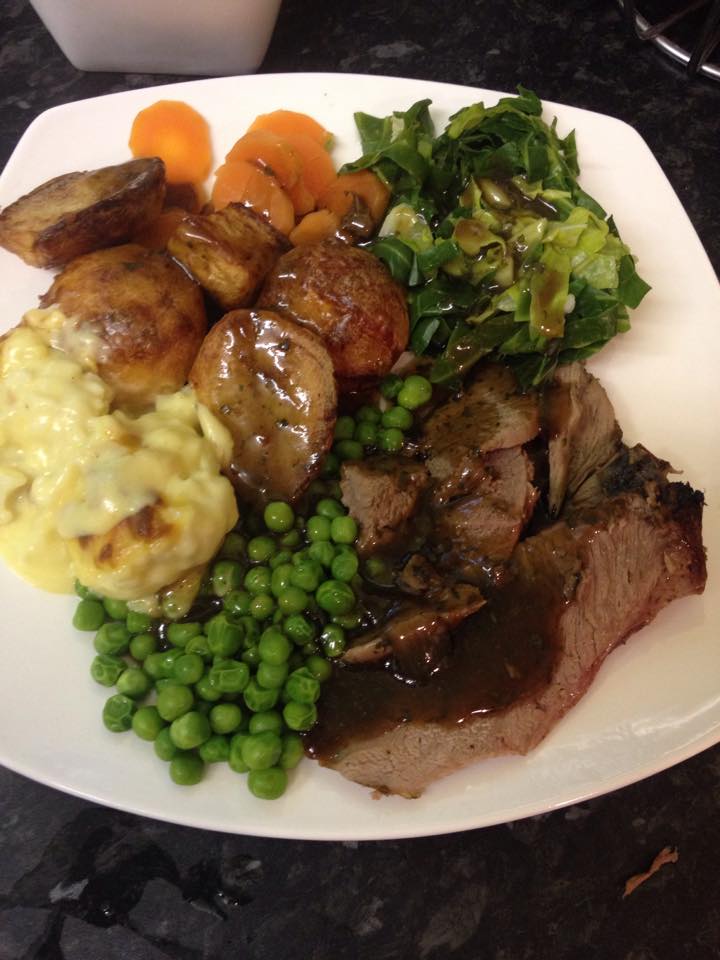 Prep Time5 mins
Cook Time1 hr 10 mins
Total Time1 hr 15 mins
2
rub mint jelly or undiluted mint sauce all over the lamb leg season with salt and pepper
3
Break a couple of carrots in half and chop an onion into quarters
4
place them into a roasting tin and sit your lamb leg on top of them
5
pour in a kettle of boiling water
6
Cover loosely with foil and put in the oven
7
After 30 mins take off the foil and continue to roast the meat
8
Your meat should be cooked after about an hour ( or core temp of meat 71f for medium , use a meat thermometer if you have one )
9
cook for longer if you like your lamb well done - You don't want any blood running when you pierce the lamb
10
Remove from oven and cover with foil put the pan onto the hob
11
mash down the onions and carrots add some gravy browning a spoonful or 3 of mint sauce and keep stirring
12
Carve the meat and serve with your favourite accompaniments
Directions
2
rub mint jelly or undiluted mint sauce all over the lamb leg season with salt and pepper
3
Break a couple of carrots in half and chop an onion into quarters
4
place them into a roasting tin and sit your lamb leg on top of them
5
pour in a kettle of boiling water
6
Cover loosely with foil and put in the oven
7
After 30 mins take off the foil and continue to roast the meat
8
Your meat should be cooked after about an hour ( or core temp of meat 71f for medium , use a meat thermometer if you have one )
9
cook for longer if you like your lamb well done - You don't want any blood running when you pierce the lamb
10
Remove from oven and cover with foil put the pan onto the hob
11
mash down the onions and carrots add some gravy browning a spoonful or 3 of mint sauce and keep stirring
12
Carve the meat and serve with your favourite accompaniments