As some of you will know, I'm putting together shopping lists for some of my recipes here to make sure everyone can save on their food, and make the most of their budget to enjoy the lovely weather. Unfortunately, it's not just the food that has become more expensive in the current cost of living crisis. The prices of household appliances have also gone up a lot since last year. That's why I wanted to talk to you about Currys Price Lock Campaign
2021 Price Lock at Currys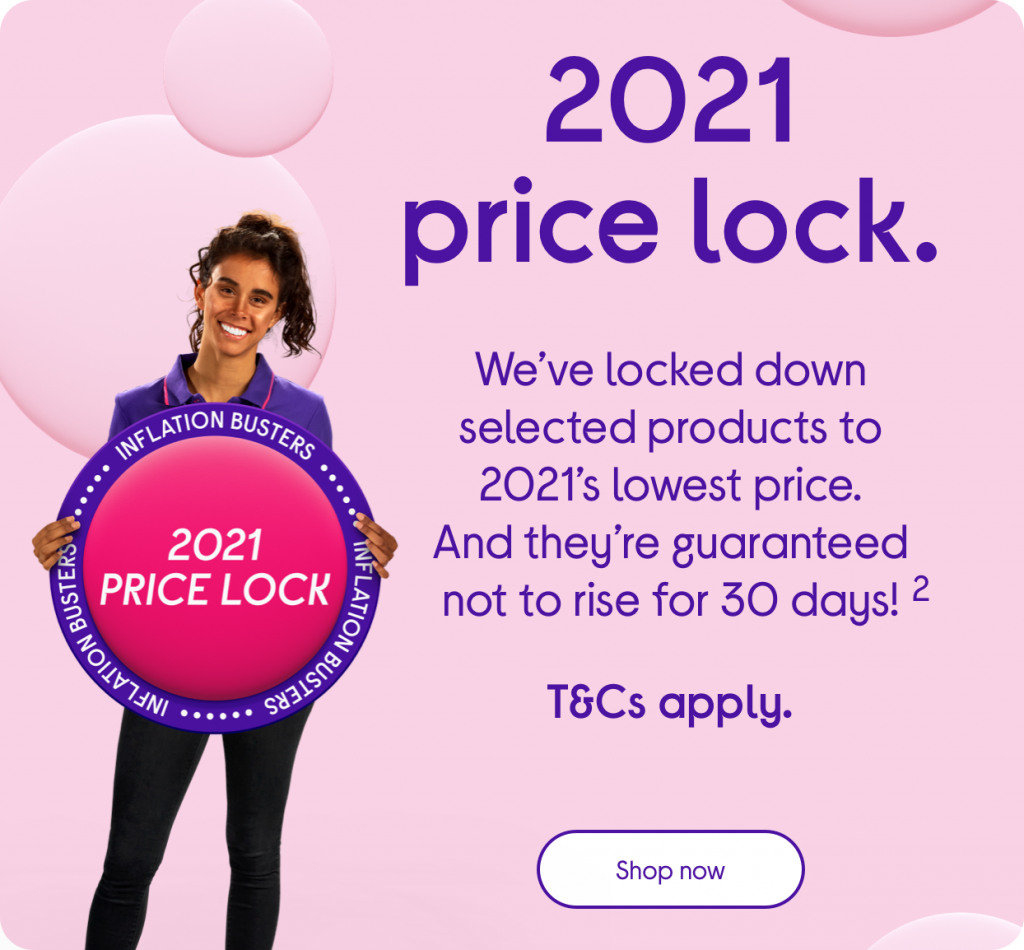 We all want the old prices back, so Currys have locked the prices of some of their most popular essential products to the lowest price they were in 2021. They range from TVs to fridges and you can save up to £150 on a single product in the offer. So if you need a new microwave or a phone, head over to Currys and have a look at what they've got here. Below, I've put together a few items for food prep that I thought could be helpful.
Since you could save £40 on a toaster in this offer and it is picnic season, I thought I'd put together some sandwich ideas and spreads that you could use with a new toaster.
Tomato Hummus
My tomato hummus works well with a toast sandwich, with crackers or as a dip. It's a healthy way to spice up lots of light meals and it's refreshing in the hot weather too. You can read the full instructions here.
For this recipe, you'll need:
1 tin of chickpeas, which are cheapest at Tesco for 60p
Tomatoes, cheapest at Aldi for 75p
Garlic, since you only need a few cloves the cheapest option is buying a loose bulb for 25p at Tesco
Lemon juice, which is cheapest at Aldi at 39p, however you could also buy a 4 pack of lemons at Aldi for 50p, juice one yourself and add the rest to some summery drinks as garnish
Other than that, you'll just need a little bit of leftover oil, salt and pepper, coriander and optionally some peanut butter.
My tomato hummus turned out like this.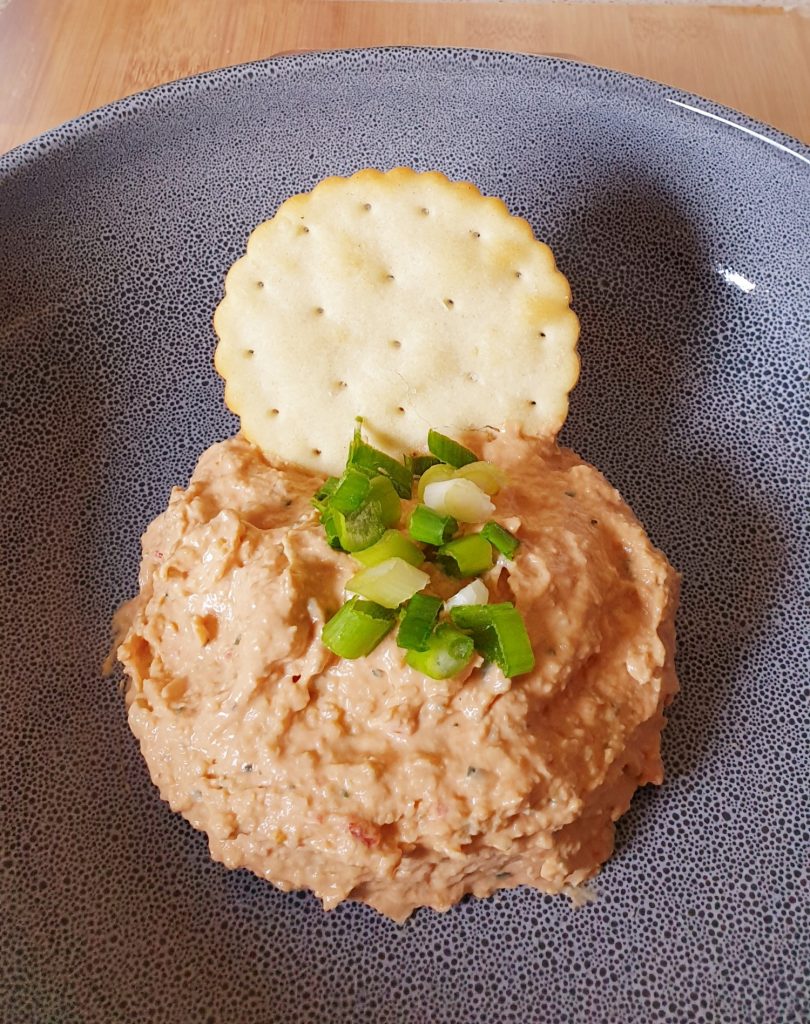 Paprika Chicken & Sweetcorn Relish
This recipe is ideal with ciabatta, but also works perfectly as an unusual sandwich filling idea. The relish is a nice, healthy alternative to a beef burger as well. You can see my result below.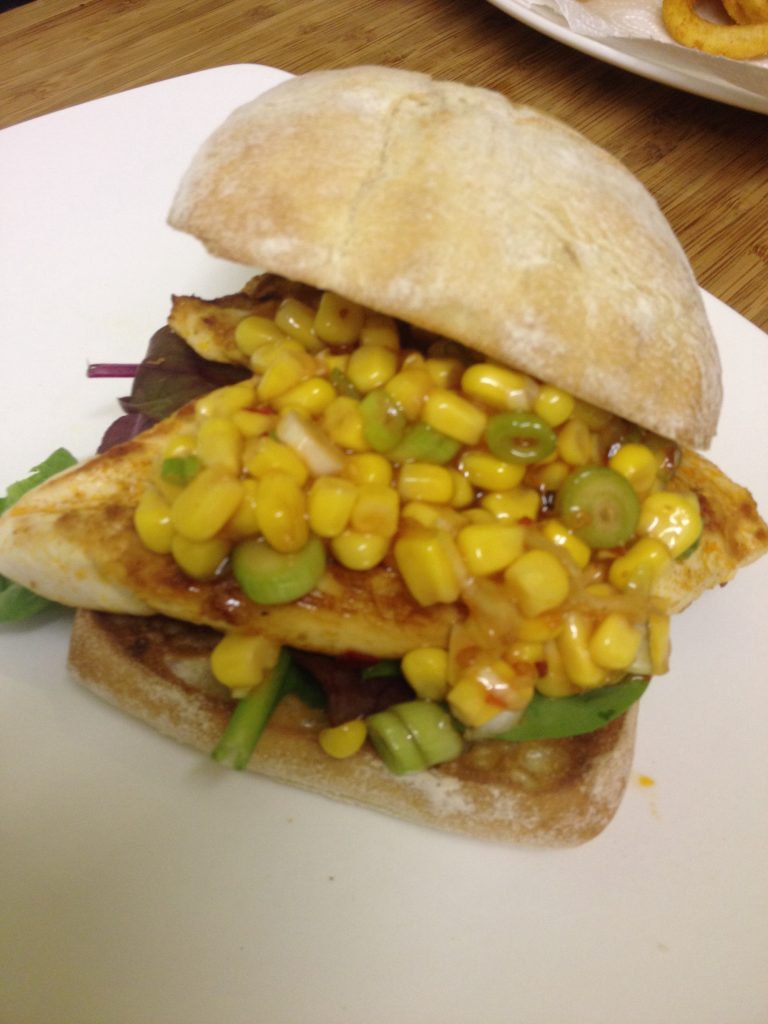 To make this tasty chicken sandwich recipe, you'll need:
Chicken breasts, cheapest at Aldi at £10.99 for 2kg
Smoked paprika, leftover or cheapest at Aldi for 55p per jar
Sweetcorn, you can get 1kg for £1.19 at Aldi
Spring onions, 49p per bunch at both Aldi & Tesco
Chilli relish, cheapest at Tesco for £1.60
Ciabatta rolls, cheapest at Aldi for £1.09
Salad leaves, leftover or 120g mixed salad cheapest at Aldi for 57p
Read my full recipe here. You should also have plenty of chicken, sweetcorn, spring onion, chilli relish and salad left after you make this, so they can be used for lots of lovely summer meals throughout the week!
Garlic Mushrooms
Now, this may work better on toast than in a sandwich, but garlic mushrooms are certainly a healthy favourite, as they're creamy and moreish. You can find my recipe here. My garlic mushrooms also work really well as a side and they look like this.
To make garlic mushrooms, you'll need:
Mushrooms, cheapest at Tesco for 90p per punnet
Garlic, leftover from your Tomato Hummus or 25p per bulb at Tesco
Creme fraiche, same price at both Aldi & Tesco, 99p
Dijon mustard, leftover or a jar for 50p at Tesco
Apart from these, all you need is a little butter, oil and salt and pepper. You should have some garlic and mustard leftover for other sauces/recipes after this unless you used leftovers to make this.
Smoked Salmon Spread
This is one of my favourite recipes. Smoked salmon might not be the cheapest fish to buy (you could replace it with mackerel), but this recipe just needs 2 fillets to make enough spread for around 10 sandwiches! It's definitely cheaper and healthier than your ordinary salmon pate from the supermarket. See my recipe here.
You'll need:
Smoked salmon fillets, you can get 4 for approx. £4.20 at Aldi
Creme fraiche, same price at both Aldi and Tesco, 99p
2 spring onions, leftover or 49p per bunch at both Aldi & Tesco
English mustard, leftover or 50p per jar at Tesco
½ lemon for juice, leftover from your Tomato Hummus or 4 lemons for 50p at Aldi
Optional, fresh dill, cheapest at Tesco for 38p
You'll have some salmon leftover after this, and depending on what you've bought or used leftovers of, you might have spring onion, mustard or lemons left as well. Have a look at my smoked salmon spread below.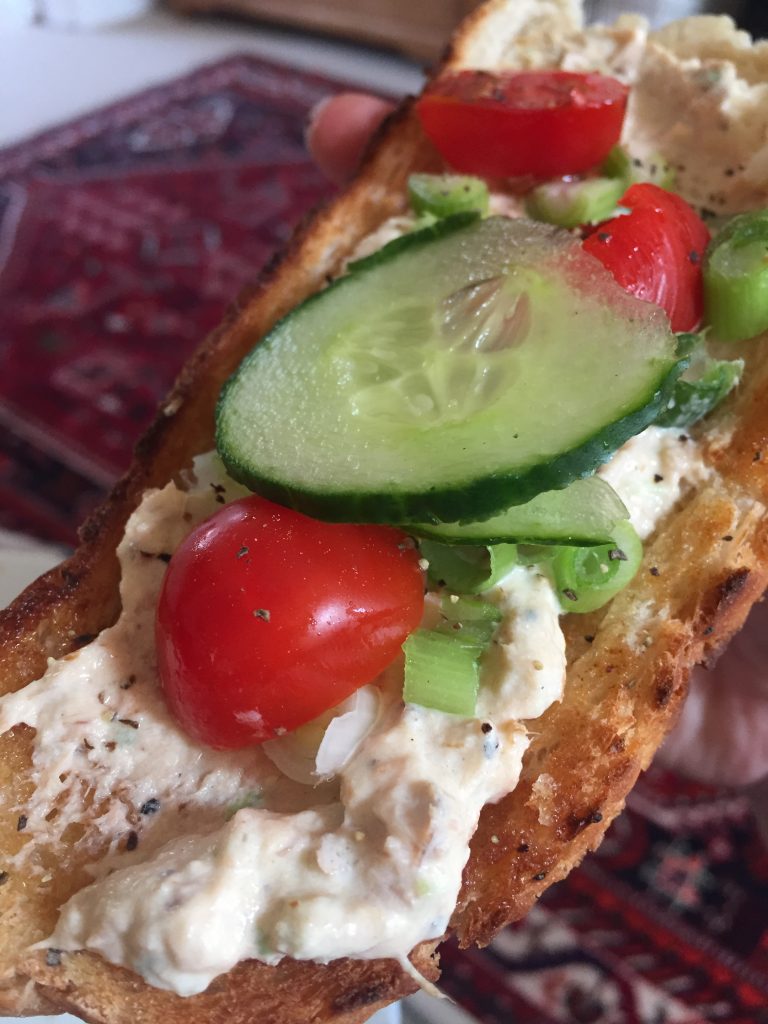 I really hope you've found some inspiration for summer sandwiches here, and that you can snap up a toaster for your sandwiches, or whatever you need, at a discount in the price lock at Currys. We all need to try and save where we can at the moment, so I hope these savings help. If you tried out any of the recipes or kitchen devices from Currys, we'd love to hear from you, so please comment down below or share your opinions in our Feed Your Family Facebook Group, to help fellow FYF'ers find the right savings for them.
Please note: All prices were correct at the time of posting.