We're all looking forward to the Queen's Jubilee 2022. Not only do we get an extra long weekend, but a reason to celebrate! Now, you might not be looking forward to it so much if you're worried about budgeting for guests or if you're not sure what to shop for. Never fear, this is what I'm here for. I've put together some of my favourite dessert recipes and budget solutions from Iceland in case you haven't got much time to prep, to make sure you'll be able to have an extra special Jubilee weekend with the entire family! With the Jubilee being next weekend already, 2nd June-5th June, here are the best ways to shop for these desserts, including the winner of the Platinum Pudding competition! Let's jump right in!
The Official Jubilee Dessert
And the winner is… the Lemon Swiss Roll & Amaretti Trifle by Jemma. You can find the recipe here on BBC good food. Whilst this official dessert for the Jubilee looks amazing I cannot imagine how much it costs, and the recipe says it takes over 2h to make! However, Iceland have come up with some easy hacks and a great shopping list, so you can make your own winning dessert for less in just over an hour! Find all their tips for the 'Real People's Pudding' here.
They recommend you get the following key ingredients:
Double cream for £1.35
Ambrosia Devon Custard for £1.25
Heartley's Orange Jelly for £0.50
Jumbo Swiss Roll for £1
Veroni Amaretto for £5.50
Almond Fingers for £1
KitKat 2 Finger White Chocolate Biscuit Bars for £1.50

This list definitely makes the dessert more doable and affordable, so you can wow your family and enjoy the official dessert without having to spend half the day in the kitchen!
'No Time to Bake' Options
If you have no time I am sure your guests will be more than happy with a couple of classic desserts and the kids will be happy with jelly and ice cream. Although it's certainly cheaper to make your desserts from scratch, which is why I included some recipes for them below, there's no harm in taking a shortcut if you just haven't got the time. You can get some great cheap desserts at Iceland.
Some of my favourite Iceland desserts are the Iceland carrot cake and the Iceland Victoria sponge. You really can't go wrong with them, and now they're also on offer: you can get 3 of them for just £5! Alternatively, you could go for some less traditional options, like Iceland cheesecake, or you could make a cheesecake yourself – in a glass!
Vanilla Cheesecake in a Glass
I've been told by my family that this recipe looks like it's from a restaurant. Have a look yourself below.
The best thing about this dessert is that it is a really easy no bake, so it's perfect for the kids to have a go at! It follows the same principles as most cheesecake recipes, but the presentation just makes it ideal for occasions like the Queen's Jubilee!
For my cheesecake in a glass you'll need:
Digestive biscuits for £1.50 or 2 for £2.50
Cream cheese, like Philadelphia for £1 per 165g pack
You'll also need some leftover lemon zest and juice, butter, mascarpone, icing sugar and vanilla. Overall, this cheesecake recipe only takes around half an hour, so this is a great option if you're in a hurry! Check out the recipe here.
Peach Cobbler
This is an old classic, of course, but for good reason! I find peach cobbler such a lovely and summery dessert, and it's always popular with guests. It doesn't take long to prepare at all, and it's only in the oven for 45-50mins. You can find my recipe here.
You'll need:
About 6 peaches, you can get them in tins for £1.10 or 2 for £1.80
½ cup plain flour for £1.10 per 1kg
1 cup of sugar for £0.69 per 1kg
¼ cup milk (either leftover or your cheapest option is 6 pints for £1.89)
Apart from that you'll only need leftover baking powder, salt, butter and cornflour. My result looks like this…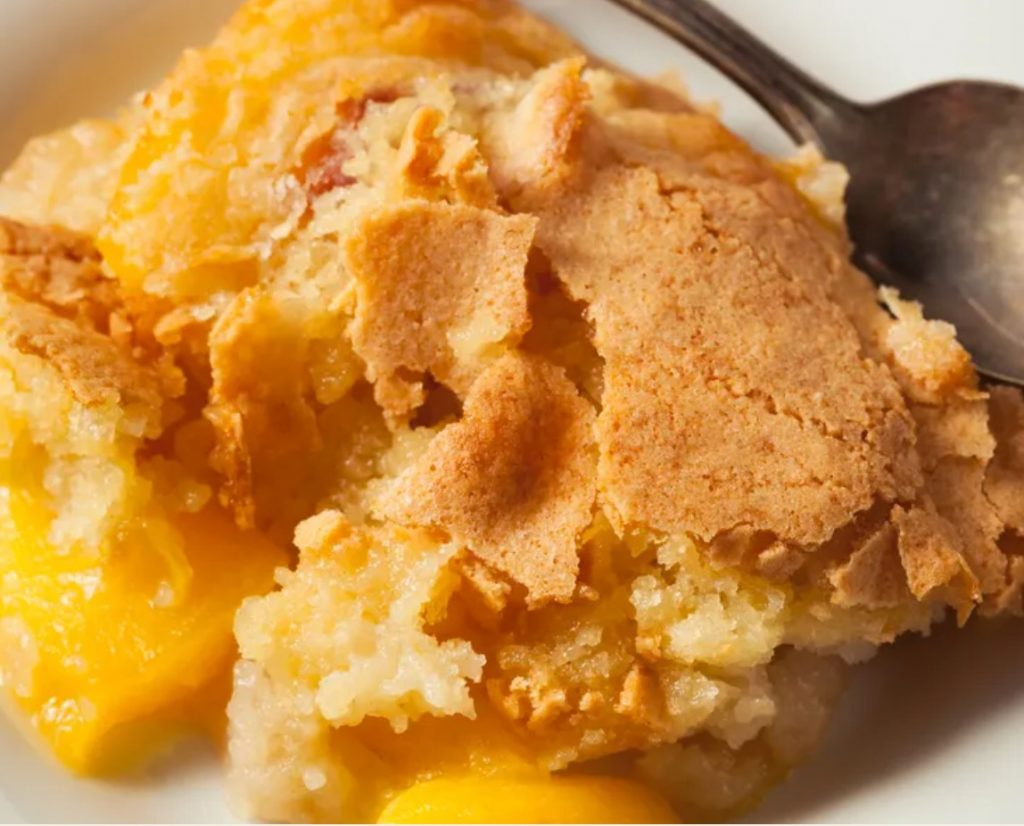 Strawberry Short Cake
This is quite a popular dessert option as well, and perfect for the Jubilee weekend 2022, because strawberries are in season in the UK from June. Strawberry Short cake is really easy to make and doesn't take too much time. Have a look at the recipe here. When finished, my Strawberry Short cake looks like this…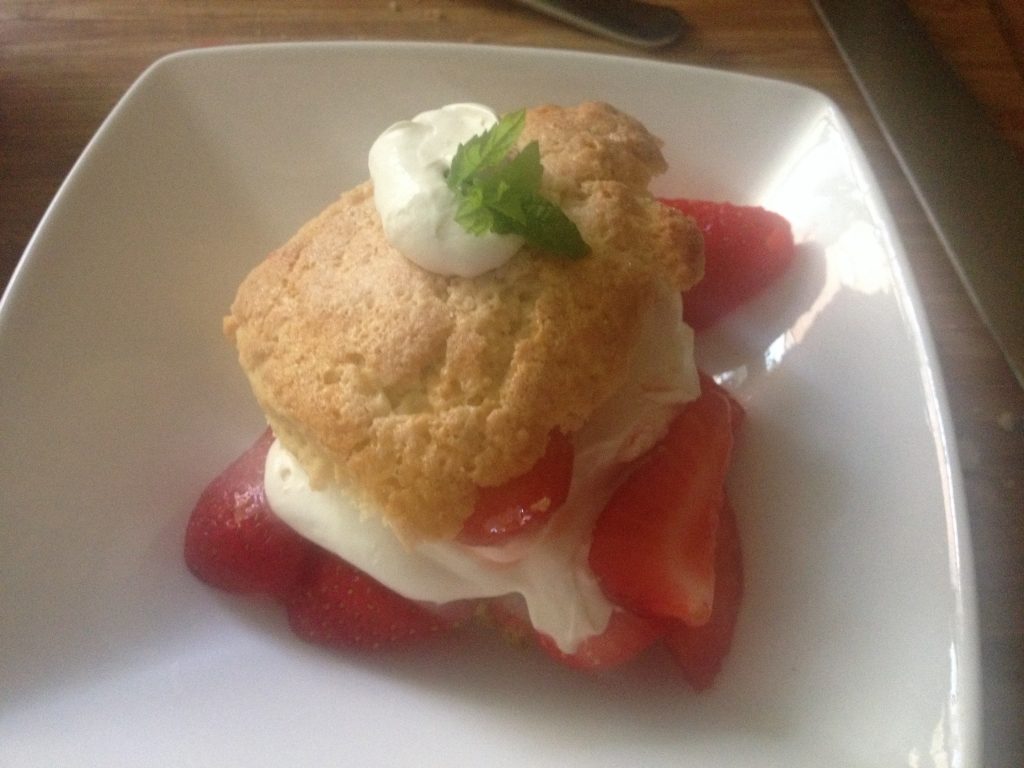 If you like the look of that, here's what to shop for it:
Self-raising flour, either leftover (8oz) or 1kg for £1.10
Sugar (2oz of whatever you have) or 1kg for £0.69
Double Cream for £1.35
Milk (4oz leftover) or 6 pints for £1.89
Fresh Strawberries 3x400g for £5, or single pack for £2.25
Other than that, you'll only need a little butter and vanilla extract, of which you'll probably have some left over. You'll notice that a few ingredients are the same as above. You could choose to make both desserts for variety, or even to use the leftover ingredients from one for the other the following weekend. Either way, having some milk, flour or sugar leftover won't mean that they'll go to waste. Ready to enjoy your Strawberry Short cake?
A Classic: Lemonade Scones
It might sound like a lot of faff to make scones as well as a dessert, but believe me, this is a really quick recipe and it's almost certainly cheaper than buying them and definitely tastier. Have a look at my recipe here. You only need three ingredients and 10mins of prep time to make this yummy classic:
Self-raising flour for £1.10 per kg
Double Cream for £1.35
Lemonade for £1.25 per 3L
You only need 175ml of lemonade, so if you have any left it will do, but it can't hurt to have some extra lemonade around to keep the kids happy during the weekend. If you've also made one of the above desserts, you might have some self-raising flour or double cream leftover which you could use on these scones! This is what mine look like…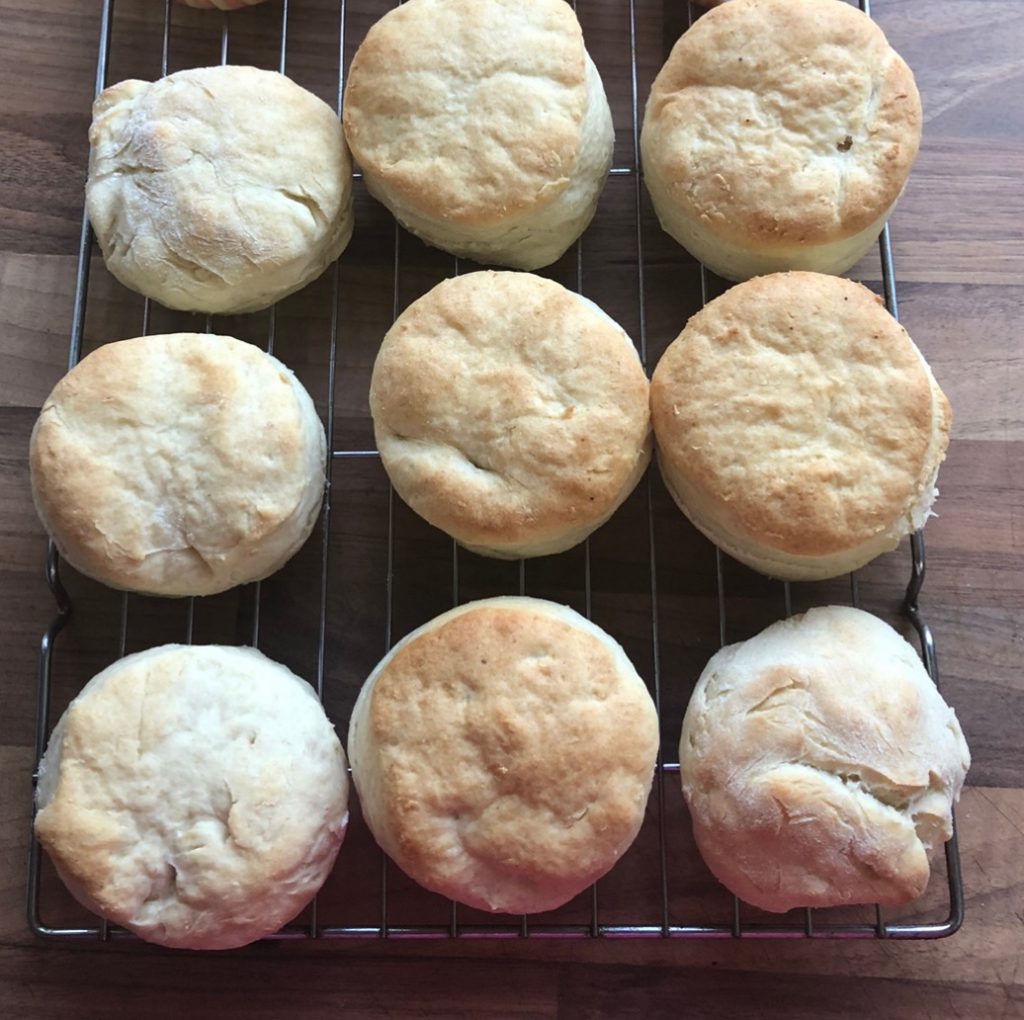 Whatever your plans are for the Jubilee weekend, I hope you all have a fabulous time! If you do make any of the desserts above, or would like more shopping tips, let us know in the comments below or in our Feed Your Family Facebook Group. We'd love to hear it!
Please note: All prices were correct at the time of posting.