Most people wouldn't say that fish is their favourite thing to eat, but we all know that eating fish is healthy and has so many benefits for our bodies, especially for kids, so I try to put some fish on the table for us regularly. There are so many ways you can cook fish and even if you're not a particular fan, a nice sauce or some fish batter can make all the difference. For example, most people who don't like fish still like fish fingers, so there's nothing wrong with making it to your own taste and getting some of those healthy nutrients like omega 3 into your weekly diet. It can be pretty expensive to shop for fish dishes, not just depending on the fish but also where you buy it, so I've put together some of my favourite fish recipes with the best offers on fish around at the moment. But first, let's look at why eating fish is so good for you and the little ones.
Health Benefits of Eating Fish
According to the NHS, you should have at least 2 portions of fish a week, one of which should be oily fish. Advice is slightly different for pregnant and breastfeeding women, but this is generally a good rule of thumb for how much fish to include in your weekly meal plan. The reason for this is that fish has just so many health benefits. Oilfish benefits include omega-3 fatty acids, which are so valuable to our bodies. They reduce risks of heart disease, strokes and Alzheimer's, because they strengthen your heart and brain. Omega-3 acids also improve vision and eye health, lower blood pressure and speed up your metabolism. This last benefit isn't the only reason fish can help to lose weight or maintain a healthy weight. The fact that fish is lean and high in protein makes it an ideal alternative to something much less healthy like processed red meat, especially for those watching out for cholesterol. Fish is also a good source of vitamin D, which strengthens your immune system and also helps you sleep better. Now, if all of these amazing benefits haven't convinced you to eat more fish, I hope the following yummy recipes will!
Fish and Chip Fakeaway
Who doesn't love fish and chips? In my family it's a particular fakeaway favourite and my fish batter recipe can be made really cheaply too! Any white fish will do, so you can buy whatever is on offer at the time. At the moment, Iceland has the best prices on fish. With their 3 for £10 offer, you can get cod, whitefish, haddock or sea bass fillets for just £3.33 a pack!
For this lovely dish, you will need:
4 fish fillets, e.g. Atlantic cod for £3.33 multibuy price, coming to just 83p per fillet
1 bottle of beer, the cheapest option being the Carling 18 pack at £1.74 per litre
80g of plain flour for £1.10 per 1.5kg, coming to 6p for our 4 servings
20g of self-raising flour for £1.10 per 1.5kg, making the price for 4 servings 2p
Add to that a pinch of salt, and you've got yourself the ingredients for beer-battered fish for just £1.04 per serving! You can see my result below! We like to add chips (1.25kg for £1) and garden peas (800g for £1). Read my beer batter recipe here.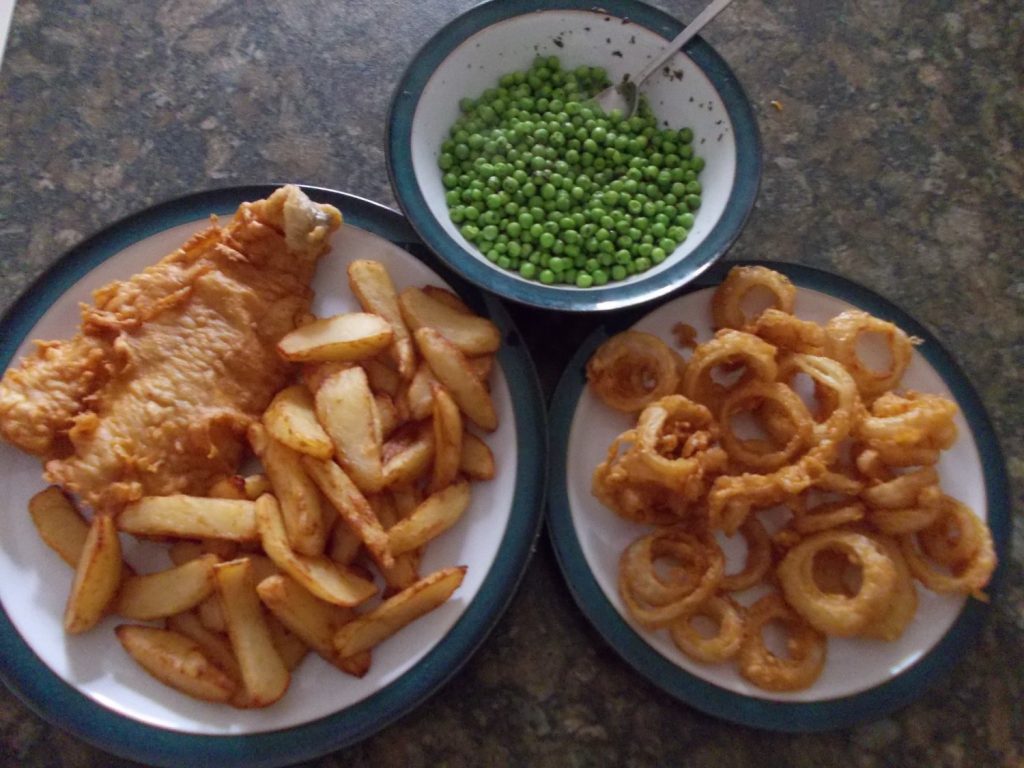 Fish Pie
For fish pie recipes, Iceland's multibuy offer comes in especially handy, as you will need cod, salmon and haddock. Depending on how many people you are cooking for, you can also add some prawns, which are in the 3 for £10 offer too.
Here's my shopping list:
1 pack each of cod, haddock & salmon fillets for £10
Frozen puff pastry for £2.35
2 eggs per serving, you can get 15 for £1.50, coming to 10p per egg
½ pint milk, you can get 6 pints for £1.95
You'll also need some leftover butter, an extra egg to glaze and some herbs and spices. It's a lovely comforting meal, and healthy too. You can find my recipe here. This is what my fish pie looks like…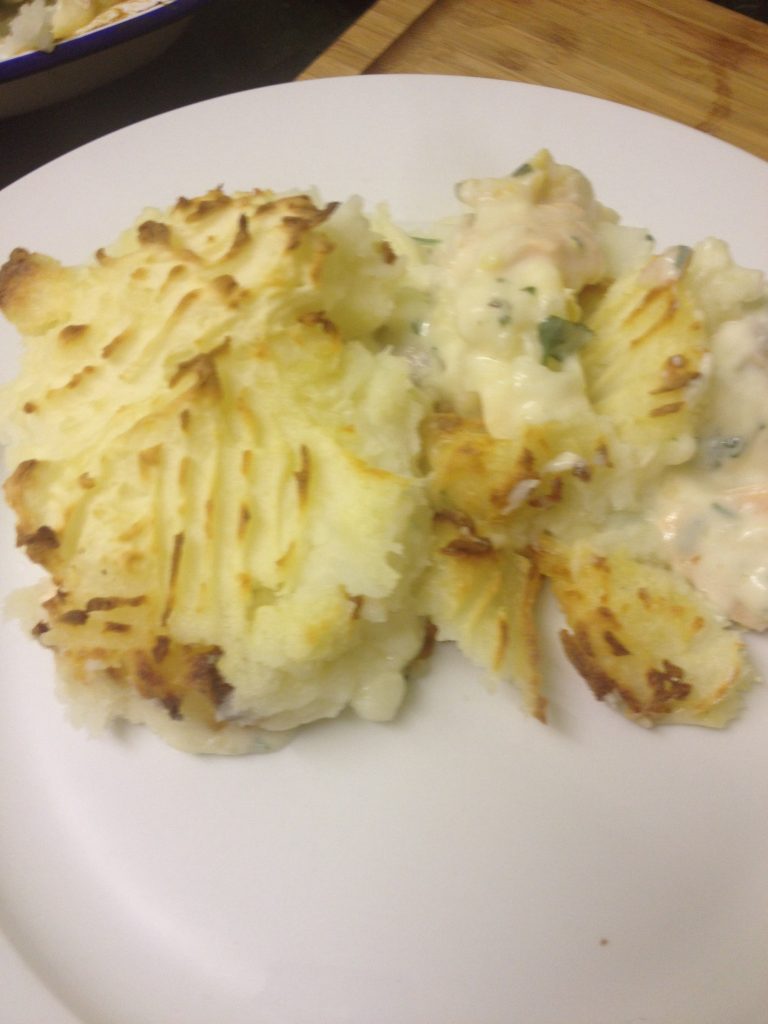 Fish Curry
A nice warming fish curry is a good way to disguise some of the fishy taste with a creamy sauce. You can find my recipe here. It's certainly a popular fish dish. Apart from the spices you won't need much, except for:
1lb of white fish, e.g. whitefish, 3 packs for £10
1 onion, you can get 1kg for £1
1 red pepper, you can get 3 for £1.50
You'll also need some coconut milk and various herbs and spices. You can see my yummy result below.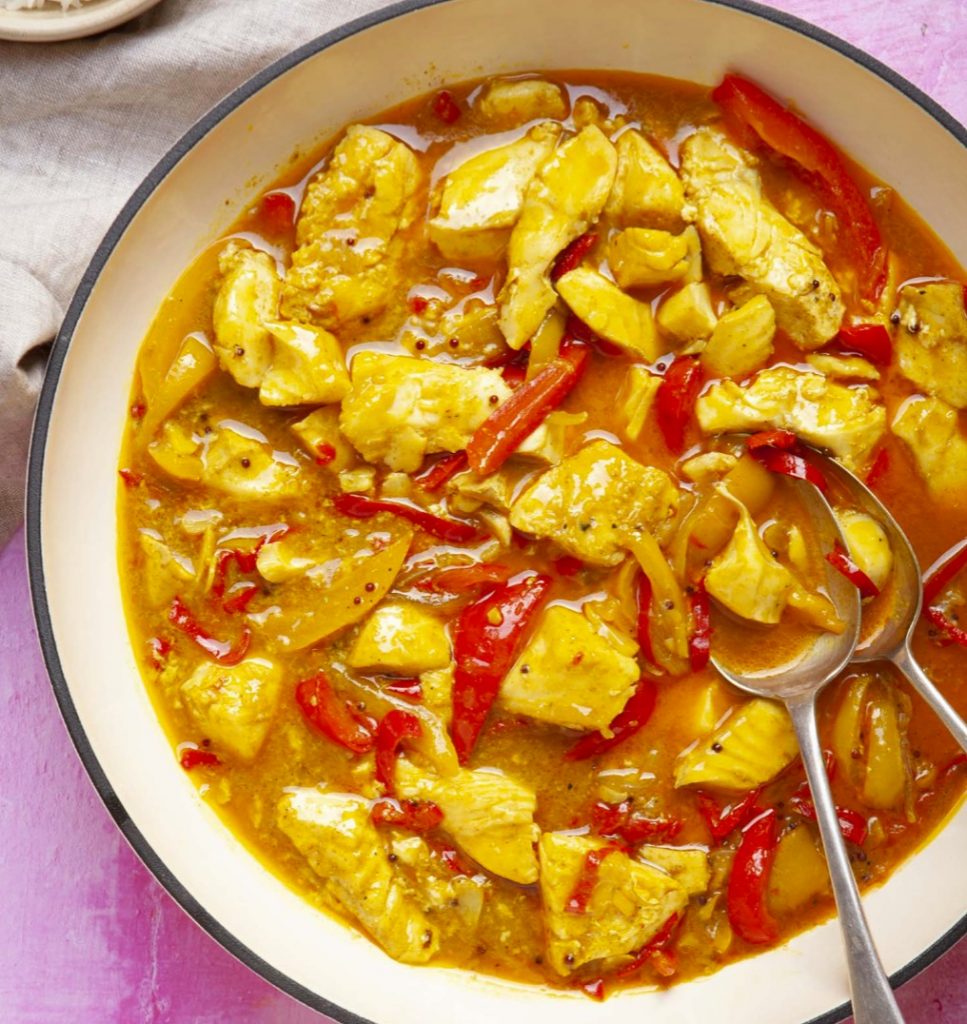 Other Great Fish Recipes
Just in case you need some more inspiration, I wanted to mention a few more of my popular fish recipes which can be made cheaply and quickly.
Whichever fish dishes you're aiming to incorporate in your diet from now on, you can rest assured that they will do you and your family good. If you've found any new family favourites, please comment below or share it in our Feed Your Family Facebook Group.
Please note: All prices were correct at the time of posting.