It's picnic season and with prices rising we are all in need of some savings to make that big outing happen, so I thought I'd put together some of my favourite picnic recipes for you guys with shopping lists below, so you can make these at a low cost. They're healthy homemade snacks and a favourite with the kids, so I definitely recommend making your own picnic snacks from scratch, as it is almost always cheaper, especially if you've got several mouths to feed. If you're in a real hurry, though, do check out Iceland's picnic offers. They've got a 3 for £5 party food deal which includes some lovely snacks for picnics, but mainly I'd recommend having a look at their summer drinks offer, where you can get Pepsi from as little as 17p per glass. With drinks sorted, we can jump right into shopping for our homemade snacks!
Pizza Pinwheels
These are not just a family favourite and great for picnics, they are also a handy snack for lunch boxes if you have any left over after your picnic. You can see the recipe here. My pizza pinwheels look like this…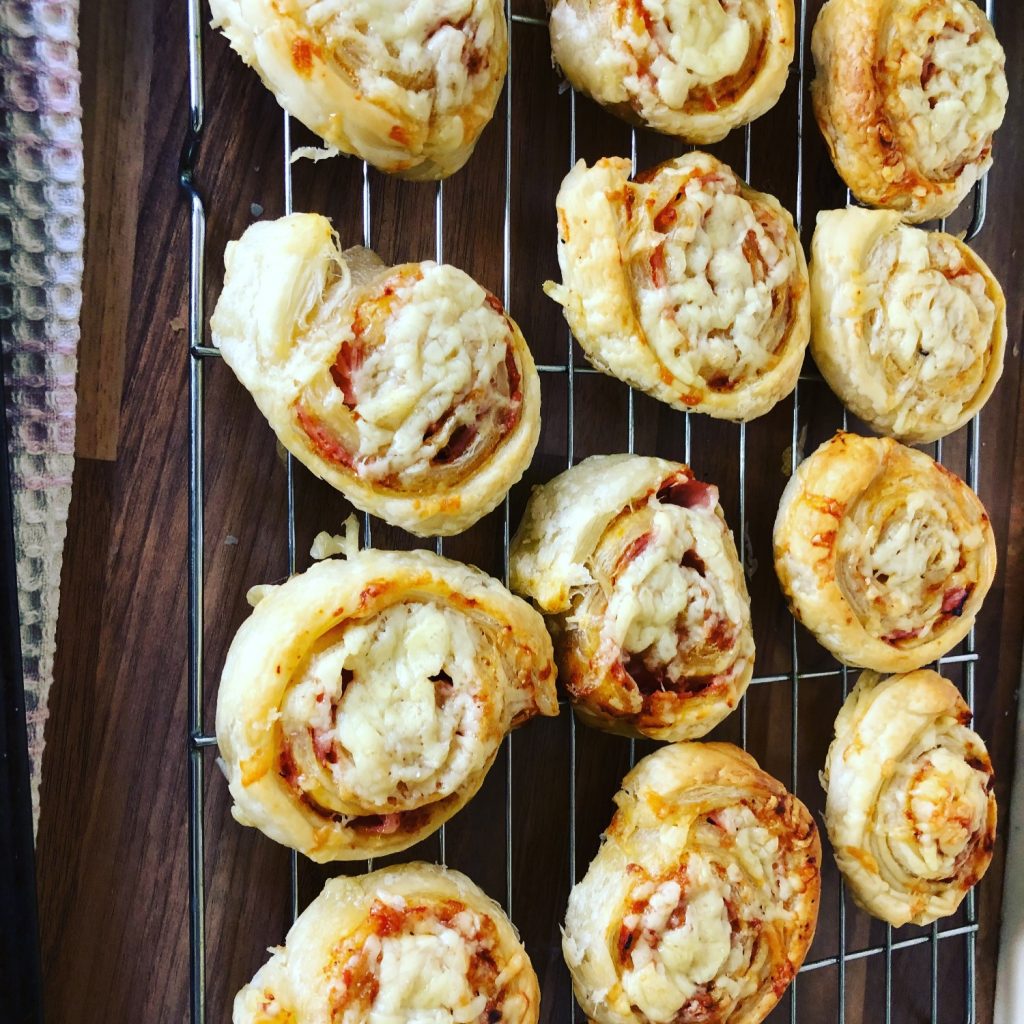 To make these yummy pizza swirls, you'll need:
Puff pastry, 1kg for £2.35
Grated cheese – it's always cheaper to grate your own, so I recommend getting a block (220g) of cheddar for £1.80
Tomato puree for £1
Ham, 350g for £2.25
This recipe yields 4 servings, so it comes in at just £1.85 per serving with the ingredients above, but you are probably going to have something left over as well to go into different recipes. If you used less of the puff pastry than you bought, you could make it into the following…
Marmite and Cheese Twists
These are much more healthy savoury snacks made at home, because you know what goes into them and you're not adding any nasties like preservatives, so they make great little snacks for picnics, parties or lunch boxes. I especially like this cheese twists recipe, because it doesn't need many ingredients and it doesn't take long to make either, so they're nice and easy snacks to make. You can find my recipe here.
You'll need:
Puff pastry, 1kg for £2.35 (most likely you'll only need one 500g block)
2-3 tbsp of Marmite, either 1 jar for £3 or any you've got left over
Grated cheddar
Here you can use what you've got left of the cheese block from the pinwheels, which is why I think these two recipes go well together. It's always great to use up leftovers from one recipe in another, especially when the result is so yummy. Have a look at my marmite and cheese twists below.
Slow Cooker Chocolate Mars Bar Cake
This is an absolute favourite of mine, as my Mum used to make this and I now make it for my kids. This cake is great for the little ones to be involved in, because it's an easy no bake, and with it being rather solid, it's great to transport – perfect for a picnic! Read my recipe here.
For this lovely treat, you'll need:
600g Mars Bars, you'll need 2 packs for £2 each
100g butter, the cheapest being Utterly Butterly for £1.60 per 500g
8tbsp Honey, 250g for £1.25, or leftover
Rice Krispies for £3
400g Milk chocolate, the cheapest being a Cadburys 360g bar for £3
As an optional extra, you can add a white chocolate drizzle and a pinch of sea salt. My Chocolate Mars Bar Cake bites look like this.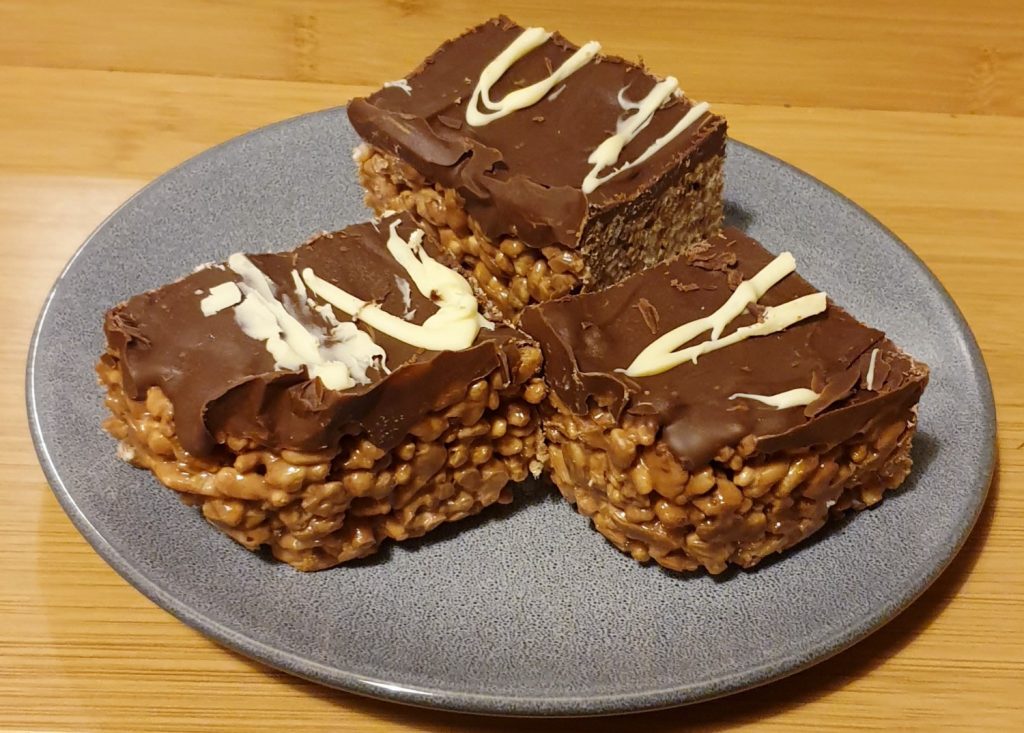 As this is a slow cooker recipe, I just want to mention that we've got a beautiful Swan slow cooker to giveaway at the moment. You can enter until 12th July by signing up to my newsletter to receive more recipes, meal plans and shopping lists to keep costs down. Find out more here! If you want to find out more about slow cookers, I've got lots of content coming up on Facebook and Instagram, or you could head over to my blog on Energy Saving Meals where you can read more about air fryer and slow cooker recipes as well!
Other Picnic Food Ideas
Just in case you need some more inspiration, here are some more ideas for healthy picnic food and quick snacks.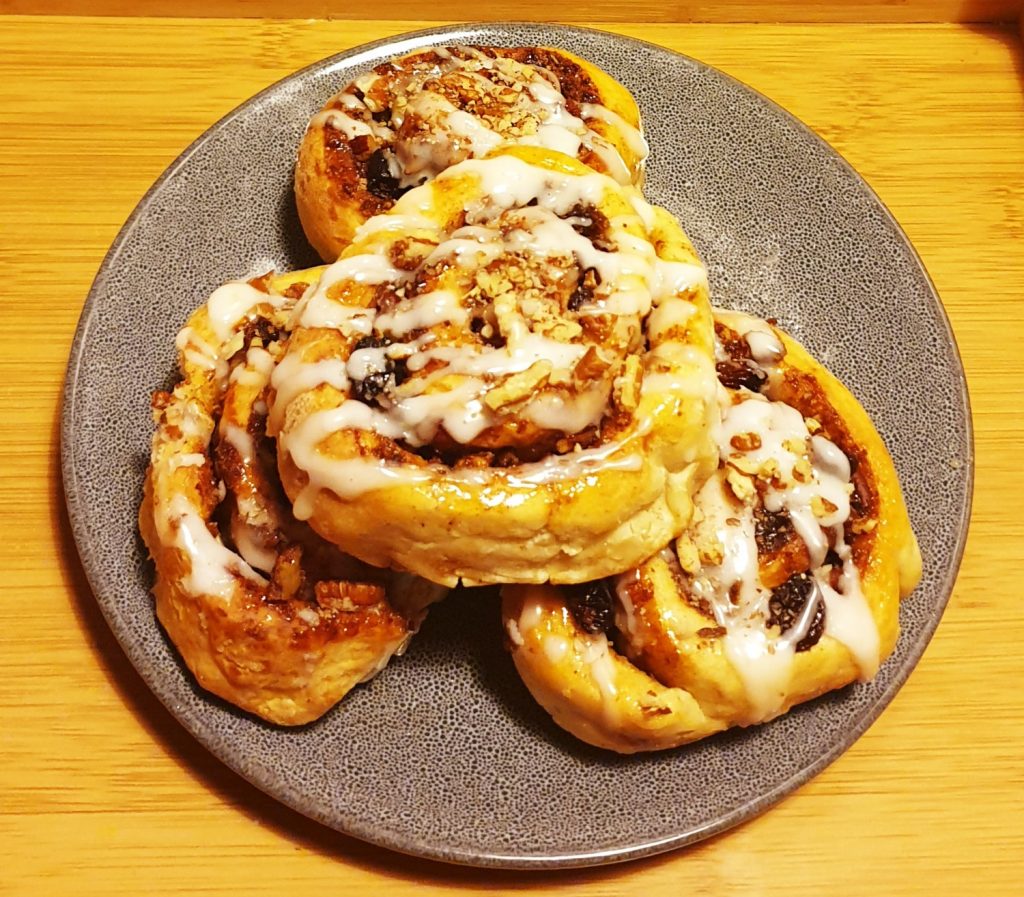 Halogen Baked Cinnamon Buns – A favourite classic, these are really easy to make, so a great opportunity to involve the little ones. Like I mentioned in my last blog, any of my 'halogen baked' recipes work really well in an air fryer, so you can save a lot of energy on this recipe compared to using a conventional oven. Find the recipe here.

Spinach and Feta Puffs – A lovely change from sausage rolls, really cheap to make and more environmentally friendly than the meat version also. Read my recipe here.
Easy Flatbreads – These just take 25mins to make and only use very few ingredients, so they're a great option if you're organising a spontaneous picnic on the weekend. Here is the recipe.
Easy Jam Muffins – Another really quick recipe which can be made with food cupboard staples, so you can probably whip them up using leftover ingredients. Find my recipe here.
Whatever your picnic plans are, I hope you've found something you'll like and that'll make your picnic affordable and enjoyable. If you end up making any of these, why not comment below or share it in our Feed Your Family Facebook Group, to help more FYFers make the most of their summer holiday budget!
Please note: All prices were correct at the time of posting.